Why shop with us?
Tickets to soccer in Italy
Welcome to ItalySoccerTickets.com, the site for you who like tickets to AC Milan, Inter Milan, Juventus, AS Roma, SS Lazio and Fiorentina in Serie A, The Liga Cup, Champions League or Europe League in Italy. On ItalySoccerTickets.com, you can easily, quickly and securely book your tickets for AC Milan, Inter, Juventus, AS Roma, SS Lazio and Fiorentina before you leave home! Enjoy the magic of soccer!
Over 3 million tickets sold

4000+ products in 30 cities

100% secure payment system

You can feel 100% safe while purchasing on our site

Pay in your local currency

You pay in dollars with no hidden fees
AC Milan vs Bologna
Mon, 6 May 2019

, San Siro Meazza

.

* The final match date and kick-off time is confirmed 5-30 days prior to the match day. If in doubt please check the official club website.
* Weekend matches are always played Saturday or Sunday and on rare occations Friday evening.
* Weekday matches are always played on Tuesday, Wednesday or Thursday.
* Changes within above date frames are beyond our control and we ask that you are aware of this when making your travel plans!
* You will NEVER get any single seats. You will always get seats next to your friends, right in front or right behind your friends. This is our guarantee from us to you!
* You will always be seated among home supporters or in a neutral zone.
* When you have completed your booking a booking confirmation/receipt and your e-tickets will be send to your e-mail address immediately.
* All information regarding collection or delivery of your original match tickets will be clearly stated on your e-ticket.
* When collecting the tickets you must show a valid photo ID and proof of purchase by bringing the credit card you used when booking the tickets.
* We highly recommend that you carefully read our terms and conditions for booking football tickets!



1st ring ORANGE : Longside of the soccer pitch. Tickets Lower half, in Orange section. 2nd ring ORANGE or RED : Longside of the soccer pitch. Tickets Upper half, in Orange or Red section. 3rd ring RED : Longside of the soccer pitch. Tickets Upper half, in Red section. 3rd ring BLUE or GREEN : Shortside of the soccer pitch. Tickets Higher half, in Blue or Green section.
Venue info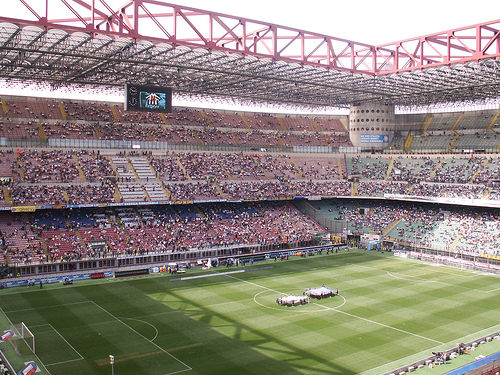 San Siro Meazza
Metro
Take the subway MM1 to Molino Dorino
Capacity
85.000
Directions
San Siro Meazza
Address
Via Piccolomini 5, 20151 Milan